Jeroen's idee is zo slecht nog niet, dus ik dacht laten we eens een topic starten over Bullfrog.
Een aantal jaren terug waren Tony Fowler en Mario in gesprek over een heavyweight flipper te bouwen. Rick zou voor de electronica zorg dragen, ik gaf de morele steun, en Kos samen met Mario ontwierpen en bouwden de gearboxen en wielen, evenals de flipper pneumatica. Tony in de UK bouwde al deze zaken samen in een frame, en dat werd dan Bullfrog Breed, later gewoon Bullfrog. Deze robot is dus net als TAN eigenlijk een samenwerkings verband van Engeland, Belgie, en Nederland. Vandaar ook de 3 landsvlaggen op de achterkant van de robot. De robot is redelijk modulair opgebouwt, de wielkasten bevatten elk hun eigen motor, gearbox, en wiel. De flipper en gasflessen zitten daar als het ware los tussen. De motoren zijn 2 ISKRA 800W motoren met een 20:1 reductie, waar een extra trap tussen is gevoegd zodat de motor in lijn recht achter het wiel zit.
In eerste instantie gingen we voor een progressieve opstelling, wat inhoud dat de cylinder scheef in de robot staat waardoor als de zuiger uitschuift het contactpunt tussen flipper en zuiger steeds dichter bij het scharnierpunt komt. De theorie is dat je dan in het begin van de flip meer kracht, en aan het eind van de flip meer snelheid opbouwt. Hoewel ik van mening ben dat het in theorie klopt, in de praktijk zitten er wat haken en ogen aan, en in de latere versie van Bullfrog is dat dan ook anders opgelost. De cylinder staat nu recht overeind en werkt zoals elke normale flipper eigenlijk. Hierbij is de flipper zelf zo laag mogelijk gehouden en steekt de cylinder recht door de arm heen als het ware om toch vodoende slag te geven maar een zo laag mogelijke aanvalshoek.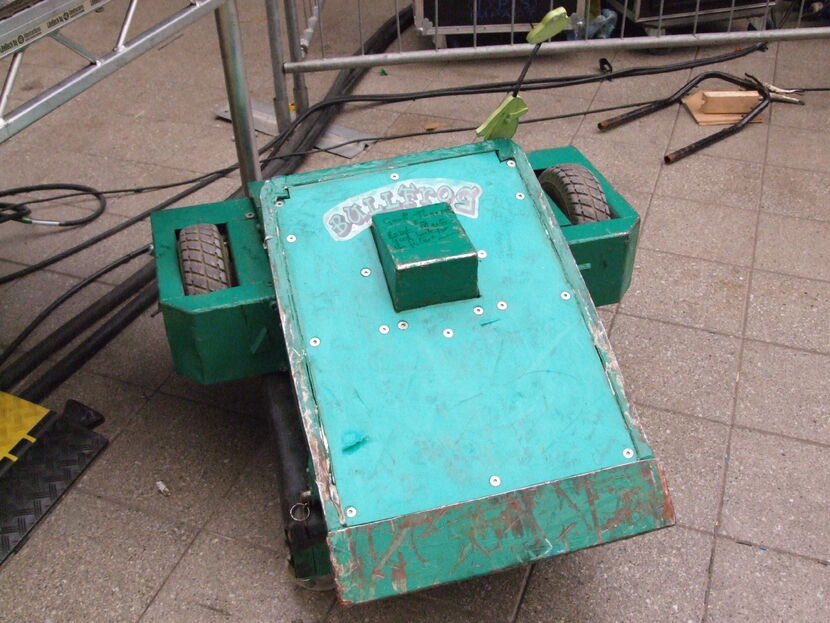 Tijdens de O2 hebben we Bullfrog definitief overgenomen van Tony Fowler, waarbij de zender en ontvanger bij Tony zijn gebleven. De rest hebben wij nu in beheer. De robot is een paar keer op display geweest, maar we moeten nog een aantal zaken fixen waaronder de accus. Er zitten nu of nicad of nimh batterijen in (het is me nog niet duidelijk welke) en 1 pack is dood. Vandaar dat ik gisteren nieuwe LiFePO4 accus heb besteld, deze zijn vandaag binnen gekomen.